Darjeeling Tea Gardens
THE INCEPTION:
Darjeeling Tea Gardens, according to records, the first commercial tea gardens planted out by the British tea interest were Tukvar, Steinthal, and Aloobari tea estates. This was in 1852 and this entire plantation used seeds that were raised in the government nurseries.
Darjeeling was then only a sparsely populated hamlet that was being used as a hill resort by the army and some affluent people.
Tea, being a labor-intensive enterprise, required a sufficient number of workers to plant, tend, pluck and finally manufacture the produce. For this, employment was offered to people from across the border of Nepal.
It appears that in 1866, Darjeeling had 39 gardens producing a total crop of 21,000 kilograms of tea. In 1870, the number of gardens increased to 56 to produce about 71,000 kgs of tea harvested from 4,400 hectares.
During 1860-64, the Darjeeling Company was established with 4 gardens while the Darjeeling Consolidated Tea CO. dates back to 1896. By 1874, tea in Darjeeling was found to be a profitable venture and there were 113 gardens with approximately 6000 hectares.
List of Complete 90 Tea estate in Darjeeling
Aloobari Tea Estate
Ambiok(Hilton) Tea Estate
Ambootia Tea Estate
Arya Tea Estate (Sidrabong)
Avongrove Tea Estate
Badamtam Tea Estate
Balasun Tea Estate
Bannockburn Tea Estate
Barnesbeg Tea Estate (North Tukvar)
Castleton Tea Estate
Chamong Tea Estate
Chongtong Tea Estate
Dhajea Tea Estate
Dilaram Tea Estate
Dooteriah Tea Estate
Edenvale Tea Estate (Maharani)
Gayabari Tea Estate (Millikthong)
Giddapahar Tea Estate
Gielle Tea Estate
Ging Tea Estate
Glenburn Tea Estate
Goomtee Tea Estate
Gopaldhara Tea Estate
Happy Valley Tea Estate
Jogamaya Tea Estate
Jungapana Tea Estate (Jungapana Upper)
Kalej Valley Tea Estate
Kanchaan View Tea Estate (Rungeet)
Kumai Tea Estate (Snow View)
Lingia Tea Estate
Liza hill Tea Estate
Longview Tea Estate (High Lands)
Lopchu Tea Estate
Mahalderam Tea Estate
Makaibari Tea Estate
Margaret's Hope Tea Estate
Marybong Tea Estate
Mim Tea Estate
Mission Hill Tea Estate
Mohan Majhua Tea Estate
Moonteviot Tea Estate
Moondakotee Tea Estate
Mullootar Tea Estate
Nagari Tea Estate
Namring Tea Estate (& Namring Upper)
Nagri Farm Tea Estate (Makurjung)
Narbada Majhua Tea Estate
North Tukvar Tea Estate
Nurbong Tea Estate
Oaks Tea Estate
Okayti Tea Estate
Orange Valley Tea Estate
Pandam Tea Estate
Peshok Tea Estate
Phoobsering Tea Estate
Phuguri Tea Estate
Poobong Tea Estate
Pussimbing Tea Estate (Minzoo)
Rangaroon Tea Estate
Ringtong Tea Estate
Risheehat Tea Estate
Rohini Tea Estate
Runglee-Rungliot Tea Estate
Rungmook Tea Estate (Cedars)
Samabeong Tea Estate
Seepoydhoorah Tea Estate (Chamling)
Seeyok Tea Estate (Spring Valley)
Selim Hill Tea Estate
Selimbong Tea Estate (Rongbong)
Singbulli Tea Estate
Singell Tea Estate
Singtam Tea Estate
Sivitar Tea Estate
Soom Tea Estate
Sourenee Tea Estate
Springside Tea Estate
Steinthal Tea Estate
Sungma Tea Estate
Temi Sikkim Tea Estate
Teesta Valley Tea Estate
Thurbo Tea Estate
Tindharia Tea Estate
Tukvar Tea Estate (Puttabong)
Takdah Tea Estate
Tumsong Tea Estate
Turzum Tea Estate
Upper Fagu Tea Estate
Vah Tukvar Tea Estate (Shree Dwarika)
Is Darjeeling famous for its tea garden?
Darjeeling's tea estates offer a deep insight into what goes behind that perfect cup of brew. While Darjeeling is a quintessential hill station in West Bengal, it is seldom visited for its gorgeous tea estates
How does Darjeeling Tea Taste?
"Champagne of teas," with musky-sweet tasting notes similar to muscat wine. But it can also have delicate vegetal, mossy, fruity, and citrus flavors. Though Darjeeling is an Indian-grown tea (from, you got it, Darjeeling), the leaves are actually Chinese.
Which is the best tea garden in Darjeeling?
Glenburn Tea Estate is the best Tea garden in Darjeeling.
How many tea gardens are there in Darjeeling?
There are around 80 to 90 tea gardens in the districts of Darjeeling, Kurseong, and Kalimpong, that are termed Darjeeling Tea.
What is the Darjeeling tea garden?
Teas grown and cultivated in Darjeeling, Mirik, Kurseong, and Kalimpong are termed Darjeeling Tea by the Tea Board of India.
Some of the finest Darjeeling Tea Producing gardens are listed below: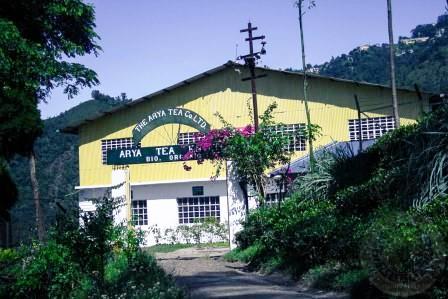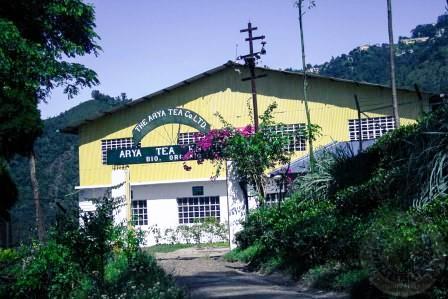 Arya Tea Estate, also known as 'Sidrabong Tea Garden' was named by a Buddhist monk in the early 18th century and meant 'Water Holy Fish'. This garden was established by Buddhist monks who developed and cultured different varieties of Chinese seeds at the time. Since the early years of its existence, these monks practised Ayurveda medical science, and the garden today preserves the house where they used to live.
Ayurvedic medicine is a system of traditional medicine native to the Indian subcontinent and practised in other parts of the world as a form of alternative medicine. Reaching the garden can be hard for it is located at an average altitude of 1500 meters above sea level with 60 degrees average inclination.
The plantation starts at an altitude of 1820 meters spreading down to 900 meters. 300 acres of land is cultivated under tea and used to produce about 90 MT. After the estate was fully certified as 'ORGANIC' by IMO Switzerland for the EU and USDA, this resulted in the crop falling to 65 MT.
The conversion to organic is in keeping with the management's philosophy for safeguarding consumer health while offering a premium product as well as showing the Estate's regard for the environment and its commitment to the community.
Badamtam Darjeeling Tea Estate
Badamtam Tea Estate was planted in 1861 by Christine Barnes having a century of heritage. Its name is said to have been derived from a Lepcha word, which meant a bamboo carrier. It is one of the most scenic gardens representing a magnificent view of Kanchenjunga. A calm and majestic, fourteen feet high bronze statue of the Buddha, sculpted by a renowned artist, poses like a guardian of peace over the vistas of tea bushes.
Badamtam teas are considered excellent Darjeeling teas are known for their delicate and light China as well as brisk and bright Assam types. It boasts of modern management methods, state-of-the-art machinery, bio-dynamic processes, and a reliable and dedicated workforce that combine to contribute to the garden's excellence.
Barnesbeg Darjeeling Tea Estate
This Darjeeling tea garden was originally planted by Christine Barnes in the year 1877. Its name was derived from Barnes' bagh or garden. It is known for very good Darjeeling teas and has developed a certain mystique over the years. The deep faith and strong religious beliefs of the Buddhist, Hindu, Muslim, and Christian communities mingle as one in this garden.
One of the picturesque gardens facing the majestic peaks of Kanchenjunga, the garden enjoys balmy cool weather with a little Rangeet river gushing down the valley. Well-drained slopes and a moderate climate bring out the best in the bushes. Its Assam bushes produce well styles of teas with a brisk taste.
Originally planted in 1885 by Dr. Charles Graham, the slopes of Castleton span Kurseong, Pankhabari, and the Hill Card Roads. The name Castleton has been derived from a building that looked like a castle and still exists in Kurseong. This Castle ('Bank Ghar') belonged to a moneylender who made the grandiose fort.
The original name of this garden was Kumseri. The various sections of these gardens have not been given numbers but names such as Bhalu Khop (bear cave), Jim Basha (the erstwhile manager's domain), Dhobitar (washerman's clothesline), Baseri (resting place).
Castleton's teas are created from select and pure China bushes that are exquisite and delicate. The teas have rose-like fragrances, and golden-like sun-spun amber, and are most prized for their unique 'muscatel' comparable to sweet summer wines with intense fragrant top notes of musk.
Chamong Tea Estate
Glenburn Tea Estate
Arguably the most famous, Glenburn provides an idyllic retreat to the tea aficionado. Established by the Scottish tea planters in 1860, Glenburn is a sprawling tea estate, covering about 1,600 acres of verdant forests, rolling hills, river valleys, and quaint villages.
Giddapahar Darjeeling Tea Estate
Giddapahar is located on a mountain just a short drive from Kurseong, The garden is situated at 4864 feet above sea level. The Estate is a small family-owned Darjeeling tea estate. It's also known as "Eagles Cliff" which is very close to Kurseong town. From the estate, one can view the magnificent sight of the mountains, perfect for taking photographs.
The town even has a point known as "Eagles Craig", a tourist point from where the plains are exposed to the viewer in a gigantic form. Giddapahar is almost 100% covered with pure china tea bushes and has followed the legendary classic-grade production of Darjeeling Teas.
The tea from Giddapahar Estate is very delicate due to the lower temperatures and being covered by mist for much of the year. Teas had been planted and picked in an orthodox way. Due to the temperature, the tea bushes from the estate were forced to grow slowly producing a fine bouquet with great aromatic quality and a delicate floral smell.
Goomtee Darjeeling Tea Estate
Goomtee Tea Estate is a glorious garden located between Jungpana to the East and Castleton to the West. Mr Henry Lennox, a British pioneer, was the first that planted a garden in 1899. It was taken over by another famous planter Mr G. W. O'Brien.
The ruling Rana family of Nepal purchased it from Mr O'Brien after World War II. By the mid-fifties, the garden management was taken over by Mr Mahabir Prasad and the Kejriwal family.
Due to the high demand for organic teas all over the world, the Majhua Division of Goomtee is presently in the 3rd and final year of conversion to Organic farming under the guidance and inspection of IMO/Switzerland, The tea is processed separately in the Goomtee Factory as per ISO 9001 and HACCP standards.
Darjeeling Tea from Goomtee is processed in the traditional "Orthodox" way. Breeded and harvested at the high altitude of over 4500 ft combined with excellent harvesting methods, this ensured the quality of pure china tea leaf.
The withered leaf is removed from the trough and loaded into rolling machines. The leaf is rolled under pressure resulting in the release of natural juices that promote oxidation and pigmentation. The leaf is thinly spread in a cool, well-ventilated room to slowly ferment. These distinguished teas are being marketed as "Muscatel Valley", and sold along with Goomtee teas.
Jogmaya Tea Garden is located on the gentle slopes of Kurseong valley which is at a distance of 4 kilometres from Kurseong town. The chinary tea bushes along with some clonal varietals in this garden are grown at an elevation from 4500 feet to 5200 feet from sea level. The tea bushes are planted in an area of 94 hectares out of the total 115 hectares of the garden area
Jungpana Darjeeling Tea Estate
Jungpana is a tiny estate nestled in the hills of the Darjeeling region. This beautiful garden is famous for the muscatel flavour of its teas. Originally planted by the British, the estate was passed into the royal hands of the Ranas of Nepal and is now owned by the Kejriwal family since 1953. The distinct flavour of this estate is a result of the micro-climate on the south side of the mountain where this estate is located.
They use pure china bushes and manufacturing techniques, resulting in the finest example of richness in flavour and bouquet that Darjeeling teas are renowned for. Jungpana is a garden of the highest quality in Darjeeling, it enjoys the most unique microclimatic and soil conditions. Jungpana has remained the leading quality estate in Darjeeling.
Prestigious outlets like Fortnum and Mason and Harrods in London, Mitsui Norraine of Japan, and boutiques in Germany continue to patronize Jungpana. Jungpana is also a favourite with some of the finest restaurants in Western Germany and its muscatel flavour. It is believed widely that Jungpana teas made it to the royal family of the U.K. We can brief it as a connoisseur's delight.
Puttabong Darjeeling Tea Estate
Puttabong is one of the first tea estates in Darjeeling and covers over 22 km ending at the little Rungeet river. Planted with Darjeeling clonal, cherry bushes, and clonal tea stock especially to meet agro-climatic conditions of the area, it produces good Darjeeling tea.
Thurbo Darjeeling Tea Estate
Thurbo is a very famous name when it comes to Darjeeling Tea. As with most Darjeeling tea gardens, there is a unique story behind its name which is based on a historic event. The British set up a camp in the estate to invade Nepal. The word camp is known as 'Tomb' in the local dialect and hence over the years, the name has become Thurbo.
The hills and peaks of Nepal are visible from here as it is located in the shadow of the mighty Kanchenjunga. Small streams and rivulets mark its boundaries and the Mechi and Rangbang gurgle down to the plans with orange orchards and orchid farms lending an exotic charm to the tea. Turbo's indigenous clonal teas have a unique character, this combined with other 'jats' like P316 & AV2 grows matchless autumnal teas. The teas imbue a rare and delicate fragrance. Its China is bright and flavorful and Assam hybrids round and sweet.
Gopaldhara Darjeeling Tea Estate
This Darjeeling tea garden was originally planted by Christine Barnes in the year 1877. Its name was derived from Barnes' bagh or garden. It is known for very good Darjeeling teas and has developed a certain mystique over the years. The deep faith and strong religious beliefs of the Buddhist, Hindu, Muslim, and Christian communities mingle as one in this garden
One of the picturesque gardens facing the majestic peaks of Kanchenjunga, the garden enjoys balmy cool weather with a little Rangeet river gushing down the valley. Well-drained slopes and a moderate climate bring out the best in the bushes. Its Assam bushes produce well styles of teas with a brisk taste.
Lopchu Darjeeling Tea Estate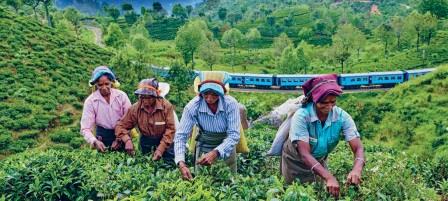 Lopchu is situated between Darjeeling and Teesta; produces tea that is instantly recognized by connoisseurs the world over for its fragrant leaf. Lopchu garden has about 226 acres under tea production and much of the tea gets exported to Germany and other European countries. 95% of the tea trees were originally transplanted from Yunnan Province in China…
Chinese bushes together with the unique climate in Darjeeling have given Lopchu a delicate muscatel flavour, a fine aroma that is known for a soothing experience. Lopchu teas can be enjoyed not just when it's hot but also cold
Margarets Hope Darjeeling Tea Estate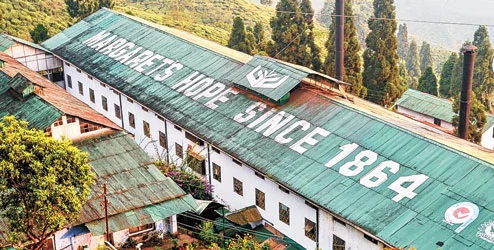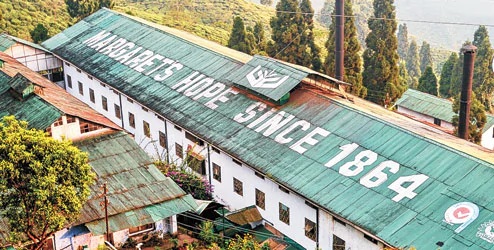 Margarets Hope is a world-famous name when it comes to Darjeeling Tea. Earlier known as Bara Ringtone, it was started in 1830 as a small plantation and became commercially viable in 1864 with China variety of plants. The current Margarets Hope Tea factory was set up in the year 1930 by Mr. John Taylor with Mr. Longsin's help (a Chinese businessman).
The unusual name 'Margaret's Hope' was given to the garden in 1927 by the then owner Mr. Cruikshank. His daughter, Margaret, enchanted by the beauty of this garden was deeply attached to the place. Before leaving for England, she promised to return but unfortunately died of a lethal tropical disease on board the ship, never to return. Thus in her memory, her father changed the name to Margaret's Hope.
Okayti Darjeeling Tea Estate
Okayti Tea Estate is located in the Mirik Valley of Darjeeling at an altitude ranging from 1770 meters to 2360 mts. Spread on 608 hectares of forest land, Okayti has a planted area of 208 hectares and can be approached by air through the airport of Bagdogra.
Owned by the Kumbhat family for generations, the garden which started in 1888, has one of the oldest tea factories in the region. Recently a new factory has been built employing the newest techniques of fermenting and drying the teas.
Although Okayti is known the world over, locally the estate is affectionately called by the name Rangdoo. Okayti is located on the banks of River Mechi which runs along the border of Nepal. The estate employs about 700 employees from the local areas, including the Nepalese village of Antu, which is perched on the opposite banks of Mechi in Nepal.
The estate is divided into upper and lower divisions and produces 140,000 kgs of tea, most of which is exported to the US, Europe, and Japan.
Phuguri Darjeeling Tea Estate
Phuguri, located in Mirik Valley, claims to produce one of the finest clonal in Darjeeling. It is also one of the largest tea-producing gardens in Darjeeling with an excess of 170,000 kgs and replaces its old tea bushes to the tune of 2% every year.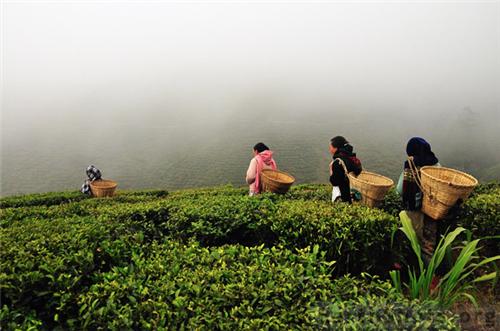 Rohini has a chequered history. It had been closed for a long period of 30 years from 1962 to 1994 till the Saria family revived it and started replanting it. Out of the 138 hectares, 108 hectares is young planted teas from 1994 onwards and have not attained maturity.
The garden is divided into four divisions. The lower division is called Jaberhat and is around 24 Hectares. The mid-elevation divisions are called Kotidhara and Pailodhora. These two divisions together are around 76 Hectares and it produces very high-quality teas. It has been planted with AV2 and T-78 clones mostly.
Tukuriya is the highest division at an average elevation of 4400 FT and stretches right up to Kurseong town. This is mostly the old tea area which now today would be more than 100 years old. The entire garden is accessible by road except for Pailodhora.
Sungma Darjeeling Tea Estate
Sungma is a famous Darjeeling garden producing some of the finest first and second-flush teas. It contains mostly china hybrid and approximately 10% Darjeeling quality clones. The climatic conditions mostly result in a very delicate aroma and mellow liquor of tea.
Sungma Tea Clonal Delight (450G) Darjeeling Tea Price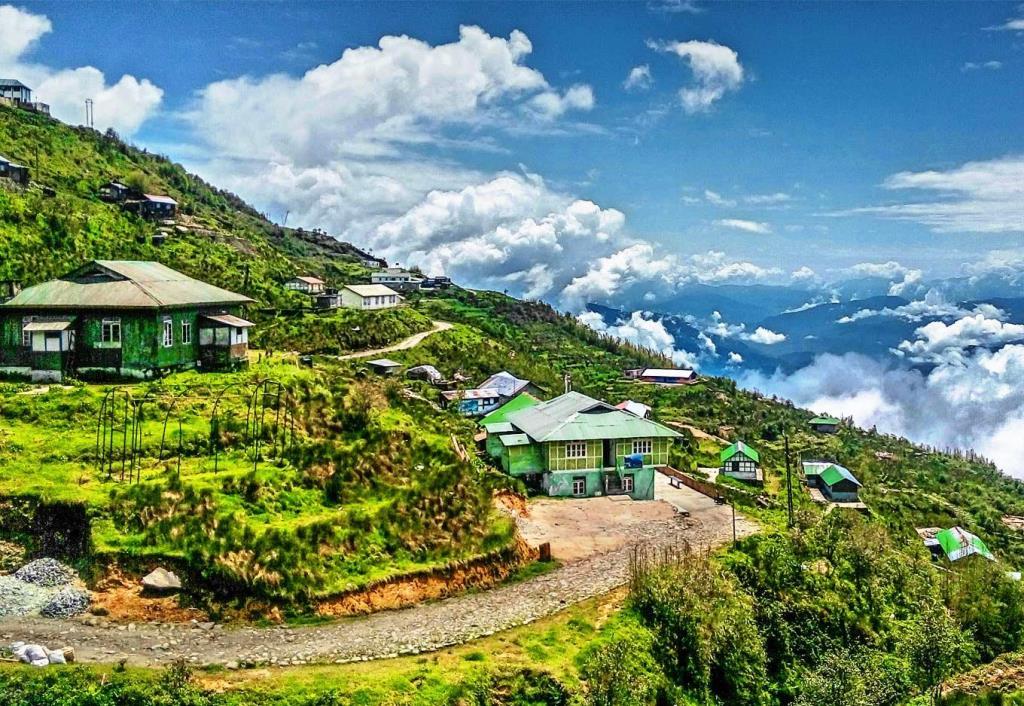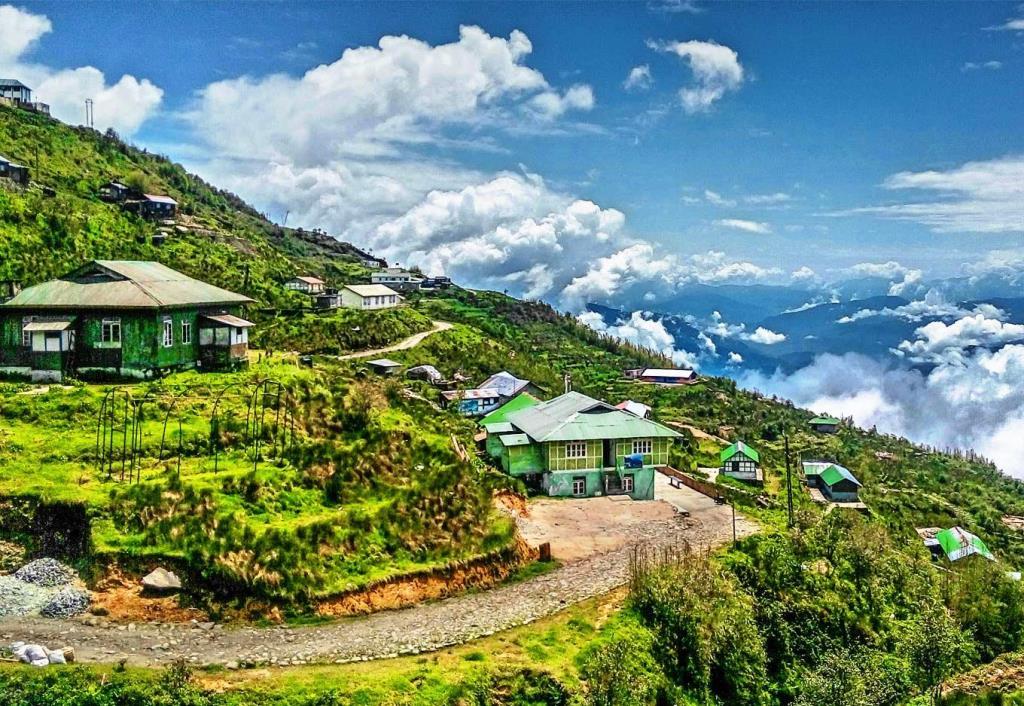 Tea grown in Sikkim is famous for its brand name 'Temi Tea. Temi Tea estate is located in Temi, South Sikkim and is one of the best tea-producing tea estates in the country. It was established in the year 1969 with an estimated area of 437 acres. It employs a total number of 406 workers and 43 staff members.
It produces about 100 MT of tea annually. During the year 1997-98, the production figure of Temi Tea garden drastically improved by producing 1,16,000 Kgs. of tea leaves which is the highest record ever achieved to date. During this year total revenue of Rs. 2.18 crores was credited to the State exchequer. Temi tea garden received the All India Quality Award; from the Tea Board of India for two consecutive years i.e. 1994 and 1995.
The orthodox variety of tea of Temi Tea is very rich in flavour and has high export potential, which is only partially tapped thus far. To its credit, Temi Tea fetches one of the highest prices at the Kolkata Tea Auction. Under the assistance of the Temi Tea Board, tea growers' society like Sang-Martam Tea Growers' Cooperative Society has started flourishing which will further increase the products.
Efforts are underway to source direct buyers in foreign markets for Sikkim's tea and the field is open for investors interested in increasing Sikkim's tea production capabilities. Temi Tea Garden, the only garden in Sikkim, will be fully organic by April 2008. The garden began its foray into organic conversion in April 2005 under the guidance of the Institute of Marketeology (IMO), a Switzerland-based agency.
Makaibari Darjeeling Tea Estate
Makaibari tea Garden is located at Kurseong, the land of the white orchid in Darjeeling, It is the world's first tea factory and was established in 1859. It is a pure organic tea garden. 90% of the teas produced in this garden is exported to Germany, USA & Japan. The climatic conditions and the continuous hard work of the management have resulted in some of the finest produced DARJEELING TEA.