Arya Tea Estate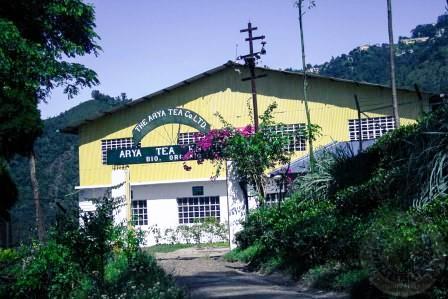 Arya Tea Estate was earlier known as 'Sidrabong' till 1885 when it was renamed Arya Tea Estate by a group of Buddhist Monks.
In the early 19th Century, the Buddhist Monks were so fascinated with the beauty and serenity of the valley that an attempt to plant varieties of tea seeds then resulted gradually in harvesting quality teas unparalleled elsewhere.
The monks then used to practice Ayurvedic sciences and hence the name Arya a word from the ancient language, Sanskrit which means respected, could be assumed to have derived from and also related indirectly to the word Aryan, a group of Prehistoric people who spoke proto-Indo European, a Caucasian group of Nordic descent which flourished in the Northern Gangetic plains.
Location Of Arya Tea Estate
Arya Tea Estate is located on the outskirts of Darjeeling town. The tea plantation of Arya Tea Estate spreads between 850meters from sea level to as high as 1800 meters.
Postal Address Of The Tea Gaden:
Arya Tea Estate
Darjeeling Railway Station,
Darjeeling (N. F. Rly),
Darjeeling.
Registered & Marketing Office:
Arya Tea Estate,
37, Shakespeare Sarani, 4th Floor,
Kolkata – 700 017
West Bengal
India.
Certifications:
Arya Tea Estate is certified by IMO and JAS as an Organic Tea Estate.
Darjeeling Teas From Arya Tea Estate
Arya Teas are famous as a producer of some of the finest teas from Darjeeling. Interestingly, some of its specialty teas are named after precious stones, undoubtedly so, because fine teas like the Darjeeling teas need to be carefully thought out.
Some Of The Speciality Teas Of Arya Tea Estate Are:
• Arya Organic Pearl Tea
• Arya Organic Ruby Tea
• Arya Organic Topaz Tea
• Arya Organic Emerald Tea
• Arya Organic Diamond Tea
• Arya Organic Clonal Leaf
• Arya Organic Green Leaf Tea
The current director of Arya Tea Estate is Mr. R. K. Bansal, and has its registered and marketing office in Kolkata, West Bengal, India.
Were you looking for specialty teas manufactured by Arya Tea Estate?
Please click on the link and look at the teas listed below to take a look at whether we have cataloged your favorite tea today.